Alumni Stories
Rita Goodie
Class of 1943
Rita Goodie Dorsey played drums in the marching band. She is now 90 years old and still shares fond memories of the high school with her family along with her sister, Agnes Goodie Johnson, 93, who graduated in 1942. Marsha Dorsey-Outlaw, a local artist is composing a public art piece for the immediate community and would like to add a bit of Yates history to the composition. If any alumnus who graduated in 1957 or earlier is still in possession of their class ring, Ms. Dorsey-Outlaw is very interested in making a plaster cast of that ring so it's impression be part of the mural! 1957 or earlier is important because this is when the school was located where Ryan Middle School is now. Please contact at outlawimsy@gmail.com as soon as possible if you, your elder or predecessor fits this description. Many thanks!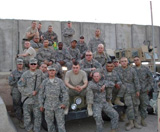 Honoring Our Heroes
This area is dedicated to our alumni that have served or are serving in our armed forces!
Lost Class Rings
Have you lost your Jack Yates High School class ring? Have you found someone's class ring? Visit our Lions lost class ring page to search for your class ring or post information about a found ring.
Do you have a fun holiday story or a great family tradition? Share them with our fellow Jack Yates High School alumni! Submit your own stories, achievements and photos in our Alumni Stories section. Read other classmate's stories and see what they have been up to over the years.

Happy Holidays!