Alumni Stories
Bishop (James) Williams
Class of 1968
Hello, I'm Bishop J. Williams, formerly known as James Williams when I graduated #1 Boy in my class. My ambition to become a medical doctor was interrupted in 1968 as God used Dr. Martin Luther King's death and last sermon, "Been to the Mountaintop" to call me into the ministry. I thought that the call was "Confirmation" of my ambition to become a doctor. It was not until 1983 that I realized that the call was "Correction" to my career path. I entered the ministry that year and experienced the beginning of a greater life!

After serving in pastoral ministry for 15 years, I was promoted and ordained to the Bishopric and begin to minister nationally via television promotions that tripled the growth of our fellowship with more ministers and churches.

In year 2000 a judge in Leon County, Texas changed my first name to my ministry title (Bishop) and my former first name (James) to my middle name. This is how a got the new name: Bishop J. Williams. This type of transition was revolutionary for Leon County. The judge felt it would add benefits to my ministry and greater blessings to the community.

Finally, on September 5, 2016, three days ago on my birthday, I was inducted into the
"New Faith Hall of Fame" for outstanding ministry engineering services and delivering messages over the years that transformed lives. My life story has been a continuous journey of transformation, from losses to gains and from shame to fame. It was the Grace of God that has brought me this far and before I go to Heaven, I have two major goals I would like to accomplish: #1. To be the keynote speaker at one of Jack Yates Graduation Ceremonies by my 70th Birthday;
#2. To do the film, "The Bishop Williams Story" with major scenes shot on Jack Yates High School campus.

God has blessed my life to be a blessing to many people. Now, I'm back with Yates again to finish the initial call to ministry that
occurred in April 1968, while watching the news of Dr. King's Death. I was a student to graduate from... and one day return to Jack Yates High School to finish my course. Therefore, I must say as I close, "Here I am Lord...Use Me".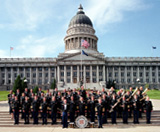 Honoring Our Heroes
This area is dedicated to our alumni that have served or are serving in our armed forces!
Lost Class Rings
Have you lost your Jack Yates High School class ring? Have you found someone's class ring? Visit our Lions lost class ring page to search for your class ring or post information about a found ring.
Do you have a fun holiday story or a great family tradition? Share them with our fellow Jack Yates High School alumni! Submit your own stories, achievements and photos in our Alumni Stories section. Read other classmate's stories and see what they have been up to over the years.

Happy Holidays!