Alumni Stories
John Ernest Dolibois
Class of 1938
Born 4 December 1918 in Luxembourg. Arrived in Akron with his father in July 1931. Attended Findley Elementary School. Charter member of North Hill Boy Scout Troop 67. First lived on Spaulding Avenue. Spent many days at Camp Manatoc. Drafted into the Army after he graduated from Miami University in 1942. Transferred to Military Intelligence after it was discovered that he spoke fluent German. One of the five interrogators of the top Nazi war criminals at the Nurembug trials following World War II. Appointed Ambassador to Luxembourg by President Ronald Reagan in 1981. The first American Ambassador posted to his native country.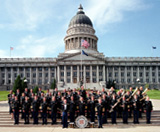 Honoring Our Heroes
This area is dedicated to our alumni that have served or are serving in our armed forces!
Lost Class Rings
Have you lost your North High School class ring? Have you found someone's class ring? Visit our Vikings lost class ring page to search for your class ring or post information about a found ring.
Do you have a fun holiday story or a great family tradition? Share them with our fellow North High School alumni! Submit your own stories, achievements and photos in our Alumni Stories section. Read other classmate's stories and see what they have been up to over the years.

Happy Holidays!