Alumni Stories
To view the rest of your John C. Birdlebough High School Classmates you must first
REGISTER
or
LOG IN.
Brian Sciarratta
Class of 1991
2 years ago I had to take a good hard look at my life and make some tough decisions. As a father and husband, I was really struggling because my business was just barely floating and because of the economy everyone and their brother was starting a business the same as mine. Well that was it, I needed to go to school and become an RN and do it as fast as humanly possible. With the help of family and friends I sold my business and enrolled in college and spent the next 2 years struggling through each quarter. In the end I have finally achieved my lifelong dream of becoming a nurse and now have the oppurtunity to put some financial security into my house. My future plans are to finish my education as a surgical physicians assistant and live a long and prosperous life.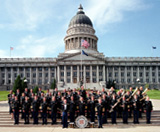 Honoring Our Heroes
This area is dedicated to our alumni that have served or are serving in our armed forces!
Lost Class Rings
Have you lost your John C. Birdlebough High School class ring? Have you found someone's class ring? Visit our Firebirds lost class ring page to search for your class ring or post information about a found ring.
Do you have a fun holiday story or a great family tradition? Share them with our fellow John C. Birdlebough High School alumni! Submit your own stories, achievements and photos in our Alumni Stories section. Read other classmate's stories and see what they have been up to over the years.

Happy Holidays!