>
Oklahoma
>
El Reno High School
>
Class of 1976
> Shawn Shawn A Jordan
Shawn Jordan (Shawn Shawn A Jordan)
El Reno High School
Class of 1976
→ Join 1475 Alumni from El Reno High School that have already claimed their alumni profiles.
→ There are 73 classes, starting with the class of 1940 all the way up to class of 2021.
SHAWN'S PROFILE
This is a limited view of Shawn's profile,
register
for free or
login
to view all their profile information.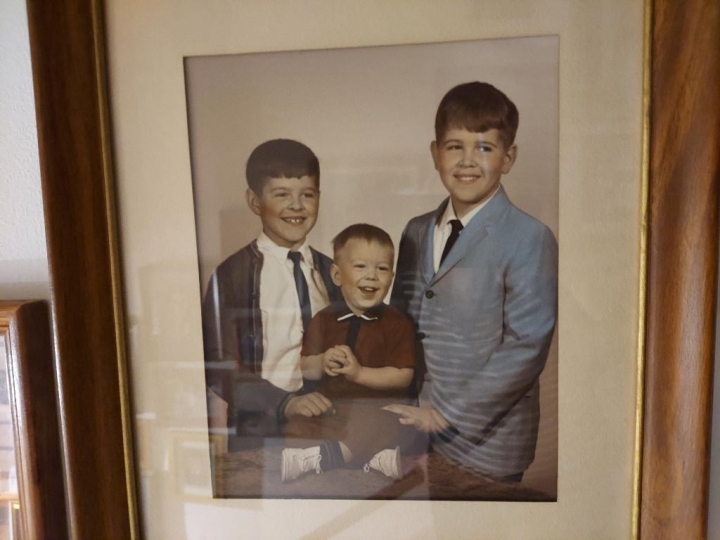 | | |
| --- | --- |
| First Name | Shawn |
| Last Name | Jordan |
| Maiden Name | Shawn A Jordan |
| Graduation Year | Class of 1976 |
| Gender | Male |
| Current Location | Olathe Kansas |
| Hometown | Sapulpa Oklahoma born there |
| Relationship Status | Married |
| About Me | I was born in Sapulpa Oklahoma in the year 1957 My Dad worked for Oklahoma Tire & Supply Company aka OTASCO He was transferred to El Reno in the early 60's I began Kindergarten there with I believe Mrs Williams she had a Kindergarten over off Watts just a block or so South of Watts near the Rock Island R/R Tracks which were just East of Stevenson's Grocery Store that was on Watts just West of the Rock Island Railway I then attended Lincoln Elementary School off Keith Street over near the City Park We lived at 525 S Reno very near the school What I remember were kids that I'll list here We lived across the alley from the Tully Family they lived on Hadden Street I believe there house was made of stone possibly They had several kids Maria she had long blonde hair then Rebecca maybe Renae and Jim Tully There dad worked at the Reformatory west of town out past the Colosseum there was a Buffalo exhibit out that way as well and the hospital my younger brother was born at Parkview Hospital I was friends with Randy Payne he lived then off of London Street just a couple of blocks from our house at 525 S Reno I've had some contact with Randy in recent years I knew a girl with dark hair and a radiant smile her name is Kathi Lenhart I remember going to a birthday party at her house when we lived there Kathi Lenhart reached out to me on Classmates site she said she actually remembered me from early childhood years while we lived in El Reno I also remember Donnie Fedderson he was a little cowpoke way back then I remember Donnie wearing big belt buckles and cowboy boots way back then … I had in recent years contacted Lincoln Elementary before it was destroyed and talked to a very nice lady there she knew who Donnie was and that he was a Rodeo professional that didn't surprise me in the least I had done so internet searching and came across Donnie Alfalfa Fedderson and article about him being in a big time rodeo maybe in Oklahoma City I remember some of the kids my older brother was in cub scouts with Skipper Ashley Bernie Bremseth Pat Holland John Higdon? and a kid by last name of Samples Also Jerry Hershberger Oh my Kindergarten teacher was as I mentioned Mrs Williams or Williamson little bungalow house and it was in my recollection yellow in color sat on the corner facing West 1st grade Mrs Truby she loved her kiddos 2nd grade Mrs McClure or McClune she had dark hair at that time from my memory long ago And I remember Principal Homer Stout what a man he was I remember a car dealership on the Southwest edge of town on your way towards Yukon the name of the dealership was Jackie Cooper Chevrolet does anyone remember any of what I have said so far ??? I remember Danny and Diana Davis they lived at the end of our street at Watts & S Reno I remember Bill Strickland he lived just south of Danny and Diana Davis and just across the alley from the Tully's There were the Driver's the Zeigler's the Heitzman's the Revel's the Palmers Just folks that come to my mind I'm remember Brosses Grocery Store off Sunset Street I remember where OTASCO was downtown on Bickford Street I also remember a young girl named Colleen she lived west of Hadden Street a couple of blocks she had very short dark hair then cute girl and I believe she lived in the 500 block of the street she lived on anyone remember her at all ??? I remember a girl who might have been a bit older than myself her name was Pam Warren does this name ring any bells at all ??? I remember Minnie Mae Ashley , Skipper Ashley's Mother she assisted my mother as Den Mothers of my older brothers Cub Scouts group maybe some of the names I've listed May remember Gary Jordan he was 3 grades ahead of me so when I was in Kindergarten he would have been in 2nd grade possibly 3rd grade or thereabouts Well I truly am thankful for this site and would certainly thoroughly enjoy anyone who sees my account online here and reaches out to me I wish we could leave our emails and our cell phone numbers online here to make contact and connections Well with warmest heartfelt regards Shawn A Jordan High School class of 1976 Would have graduated in El Reno had ...(read more) |
| Shawn's Social Links | Facebook |