Placerville, California (CA)
Alumni Stories
Sandi Smith
Class of 1980
Some people may remember Sandi as the EDHS yearbook photographer in 1978,79,80. Although Sandi Smith graduated in the top 10% of the El Dorado High School class of 1980, she did not take college prep courses in high school because no one in her family had a college degree, she never imagined herself going to college.

After several years of working in various jobs, Sandi decided she really wanted to go to college and become a teacher. After completing a bachelor's degree, then a Master's degree, Sandi also completed a doctorate in Education from Florida State University and specialized in internationalizing higher education. The only member of her family to complete a college degree, Sandi is very proud to encourage young people to ignore the perceived obstacles to attending college and don't be afraid to ask for help from people who can advise you about college.

Dr. Sandi Smith has worked for almost 20 years in international education. From being a kindergarten teacher in Palau, Micronesia along with El Dorado High School Alunmi Joyce (Cundall) Owens, Dr. Sandi has also been a Study Abroad Coordinator at Emory University and Director of International Education at Lehigh University and University of Virginia.

Dr. Sandi is now Director of Institutional Relations for Global Learning Semesters, and encourages students from all backgrounds to follow their dreams and get a college education and especially to participate in international education.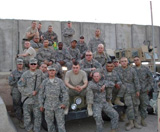 Honoring Our Heroes
This area is dedicated to our alumni that have served or are serving in our armed forces!
Lost Class Rings
Have you lost your El Dorado High School class ring? Have you found someone's class ring? Visit our Cougars lost class ring page to search for your class ring or post information about a found ring.
Do you have a fun holiday story or a great family tradition? Share them with our fellow El Dorado High School alumni! Submit your own stories, achievements and photos in our Alumni Stories section. Read other classmate's stories and see what they have been up to over the years.

Happy Holidays!