As little kids we always go where our parents take us for the holidays and partake in the traditions that they show us. Of course as a child you don't fully understand the aspect of doing the same things every year or the meaning of tradition. All you know is that Christmas is when you go to Grandma and Papa's house and open presents from Santa. When you're little you were probably told that Christmas is also the day Jesus was born so it was a day to celebrate his birthday and if you went to a Christmas Eve service you probably heard the story of his birth.
So how did Christmas become about both Jesus and getting presents from Santa? Well for starters every family has different traditions that develop over the years, but these had to come from somewhere, right?
Everyone knows the story of the birth of Jesus with Mary and Joseph traveling to Bethlehem in need of a place to stay. All the ins were full and they ended up staying in a manger where baby Jesus was born. From this we get the nativity scenes that are put up outside of churches and in our houses. So this story explains where we get the tradition of displaying the nativity scene and why we celebrate Jesus on December 25, but where does everything else come into play?
There have been celebrations around the world since before the birth of Jesus as a sort of celebration of light and birth through the darkest days of the year. People celebrated at the end of December when the worst days of winter were over and they could bring in the longer lighter days of the year.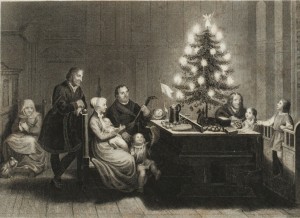 Christmas became the official name of the holiday during the middle ages and was then banned in England when Oliver Cromwell stepped into the picture. When Charles II took the throne back Christmas was restored.
After the pilgrims came to America Christmas was not widely celebrated and anyone celebrating the holiday was fined five shillings. It wasn't until after the American Revolution while Congress was in session on December 25, 1789 that the first Christmas took place in America. However, it wasn't declared an official holiday until June 26, 1870.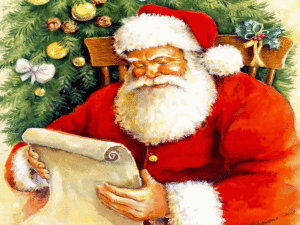 You are probably wondering what about the big guy in the red suit? Well he first came about in 280 AD in Patara, a city in Asia Minor. He was first known as Saint Nicholas and now today everyone from little kids to the elderly knows him as Santa Claus. Saint Nicholas was known as the gift giver, delivering gifts late at night. Saint Nicholas was originally a priest who became a bishop. He did not like to be seen when he delivered gifts so the children went to bed early or else they were told he wouldn't come.
The original St Nicholas was imprisoned for his beliefs for more than five years, upon release he continued in his ways until his death on December 6, 343 AD. Over the years Saint Nicholas became very popular and people made up many new stories about him and therefore creating the Santa Claus we have today.
We hear people saying all the time how Christmas has become so commercialized and why can't it be like the good ol' days when it was about sitting at home around the tree and spending time with your family, when in truth Christmas has been commercialized for a lot longer then we realize. As a matter of fact Ronald Hutton documents sources dating back as far as the 1600s that record traditions similar to what we celebrate today. By the 1840's retailers were utilizing the Santa Claus character to draw in customers and encourage spending.
So where do you think we got this "non-commercialized" idea of Christmas?
Check out our sister company's Christmas store for your favorite Christmas apparel!